Project Summary: BHCA is an app that track bullying, radicalisation and hate crime. The product allows people to track down victims who may have suffer bullying, radicalisation or hate crime. It helps the victim to report with a direct telephone number o by form. My role was to research, design and test the BHCA app.
Major Task & Resonsabilities: Carry out user research to discover if there was a user need for a product like this. Identify the key user groups, identify the key tasks, set usability goals, develop a prototype and run a usability test before iterating on the design.
Platform: Mobile
Design Tools / UX Methods: Used Affinity sorting, Personas, Paper prototypes, Sketch, Affinity Designer.
Key Performace Metrics: Success rate, time taken to perform Tasks, # of recommendation to a friend.
The Problem
NSPCC figures suggest nearly half of children and young people (46%) have been bullied at school at some point in their lives. Incidences of bullying have decreased overall over the last 15 years. However, bullying is increasingly taking place online on mobile devices, which can make it harder for parents and teachers to help.
The Solution
BHCA app allows victims report instances of bullying, hate crime or radicalisation. The app will allow a user to either send a report, or initiate a direct telephone conversation with someone who can help.
My Role
UX designer
Tools
Sketch (Wireframes and Visual Design), Affinity Designer (Design the app), Pen and Paper (paper prototyping)
DEFINE
Strategic objectives
BHCA needs all the work done for the system.
Requirements
The company is thinking of an app for report instances of bullying, hate crime or radicalisation. The app will allow a user to either send a report or initiate a direct telephone conversation with someone who can help.
Business Goals + User Goals
Thack bullying, Radicalisation, and Hate Crime. The user research will show the user needs and the changes the app will need to meet them.
DISCOVER
Competitive Analysis
I observed the following apps and websites: UK Safer Internet Centre, Young Minds, Anti-Bullying Alliace, etc.
I did a feature inventory to see the tasks users can complete. I took screenshots at every step and notes on difficulties, useful features, and poorly implemented ones. My goal was to find commonalities between competitors to determinate what users would expect from BHCA
I also had a look at the user reviews on the App Store to see what they were happy about and what could be improved.
Stop Hate UK app: This APP can be used to submit video, photo, audio evidence along with a report including location to Stop Hate UK.
Stopit App: This app empowers individuals with an anonymous mobile app to report incidents, including attaching photos or video evidence.
Beat Bullying with Confidence: This app offers information to deal with Bullying situations.
I also analyse the Research Designing Cyberbullying Mitigation and Prevention Solutions through Participatory Design with Teenagers from Zahra Ashktorab and Jessica Vitak.
User Research
I interviewed 5 people, age range 10-14 to evaluate the need for the system.
The interviews showed the following:
The users use more the mobile phone than the computer.
They prefer mobile phone because is more private than the computer. Parents look them less often.
They look at their mobile phones compulsively (every 15 minutes)
They see bullying and abuse in groups on Snapchat (The'd like the option to report these groups and it's been deleted after that.)
They like the idea of an App to report but they would like the option that police be not involved. They want to control de situation.
They want the option of an emergency button.
They insist on the importance of an App anonymous.
They want that don't have a criminal record – fear to have a mark in their future.
They'd like the app give the option to share content from their mobile phone.
Affinity Sorting
I used affinity sorting to define my primary persona and red routes.
Personas
3 groups stood out: experienced tech savvy with high familiarity in bullying…, low experienced in tech and familiarity with bullying, Low experience in Tech but familiarity with Bullying…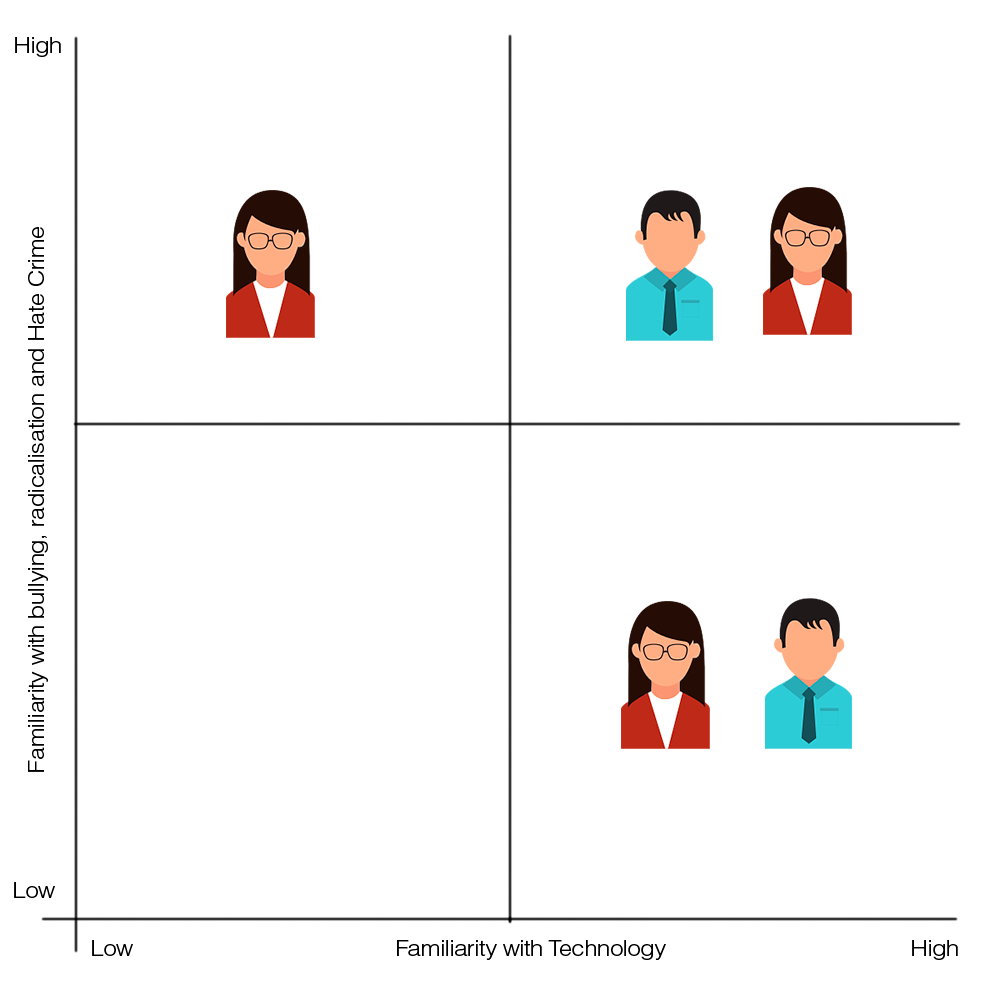 My primary persona is Sonam. I knew that if I made this user happy, 4 out of 5 would be.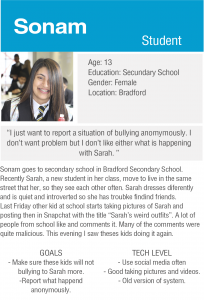 Based on the user research, I discovered the need of the following features:
Report about content in social networks (Snapchap…)
Option to not involve the police.
Emergency button
Option to report anonymous
Know and control the situation of the report
Option to report a physical injury or a mentally / emotional injury
Options to share information in the report (photo, videos…)
I create the red routes for the app and 2 scenarios based on the primary persona and its user story.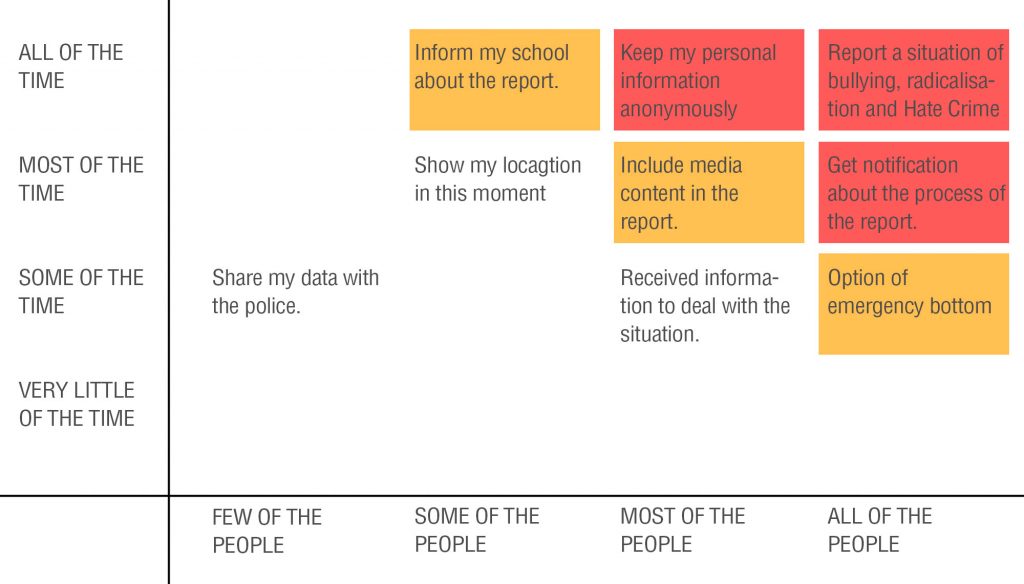 | | |
| --- | --- |
| RED ROUTES | |
| Report a situation of bullying, radicalisation and Hate Crime | Sonam says: As a student in the school, I want to report the situation of bullying that I saw in Snapchat today. |
| Keep my personal information anonymously | Sonam says: As a student in the school, I want to keep my report anonymously. I don't want problems with teachers o the police. |
DESIGN
I drew out the main screens Sonam would need to accomplish her goal for both scenarios.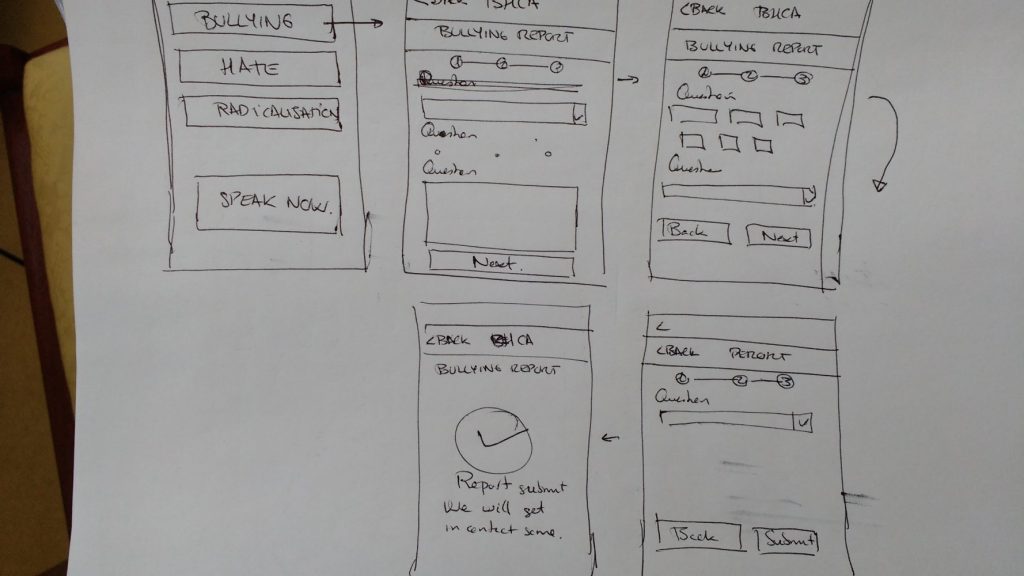 Wireframes
I create high fidelity prototype to iterate through many design options.
Unfortunately for reasons external to my control, the project was canceled and I could not proceed to the next step.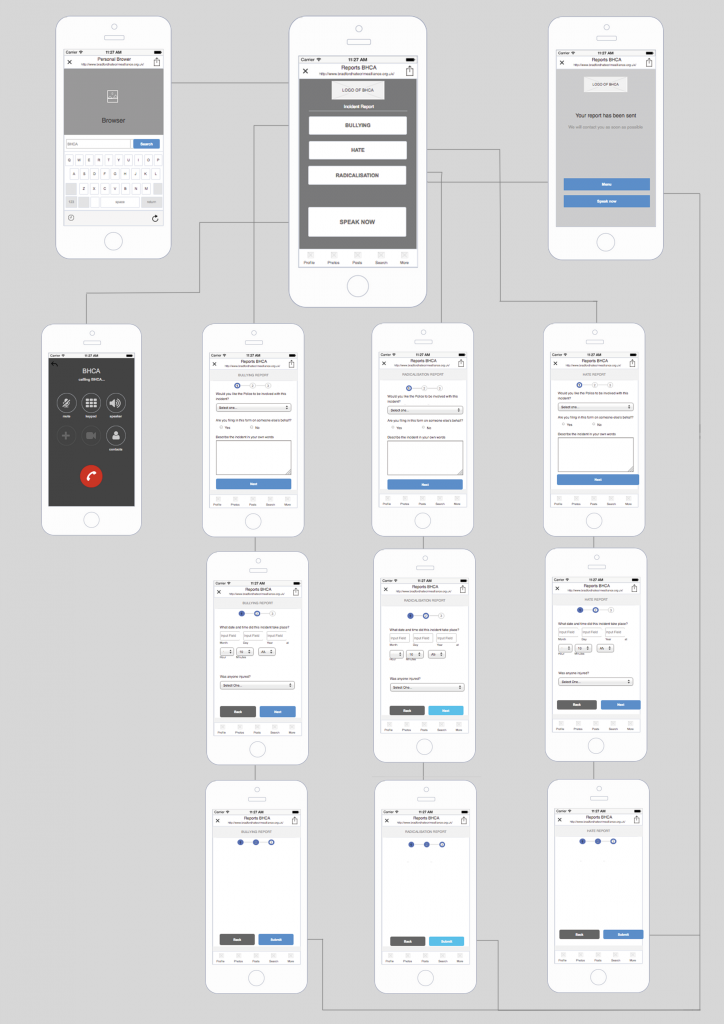 OUTCOME
Learning:
I put my UX knowledge into practice: Define a user need, Discover how to solve the user's goals, Design a clean and simple App prototype based on the user needs.
Challenges
Dealing with management to get approval to conduct initial user testing, and persuading them successfully of the benefits of user research. Some members of the NGO immediately understood the benefits of user-guided design, whereas some were resistant.
Favourite part of the process
Sketching and developing prototypes. It was very fulfilling to iterate on designs and test them directly on users. I ended the project feeling more confident.
LIVE MONDRAGUE
Project Summary
The managment of Atumon wanted a new website for the National Park of Monfragüe. My role was to design and develop the new website.
Major Tasks & Responsibility
Identify the key needs of the project and create a prototype by paper, iterate with the client and design the website.
Development Tools
WordPress